WISI IPTV Solution End-to-End เป็นระบบโทรทัศน์ที่ส่งสัญญาณผ่านโครงข่ายเน็ทเวิร์ค ให้ระดับคุณภาพสูง Full HD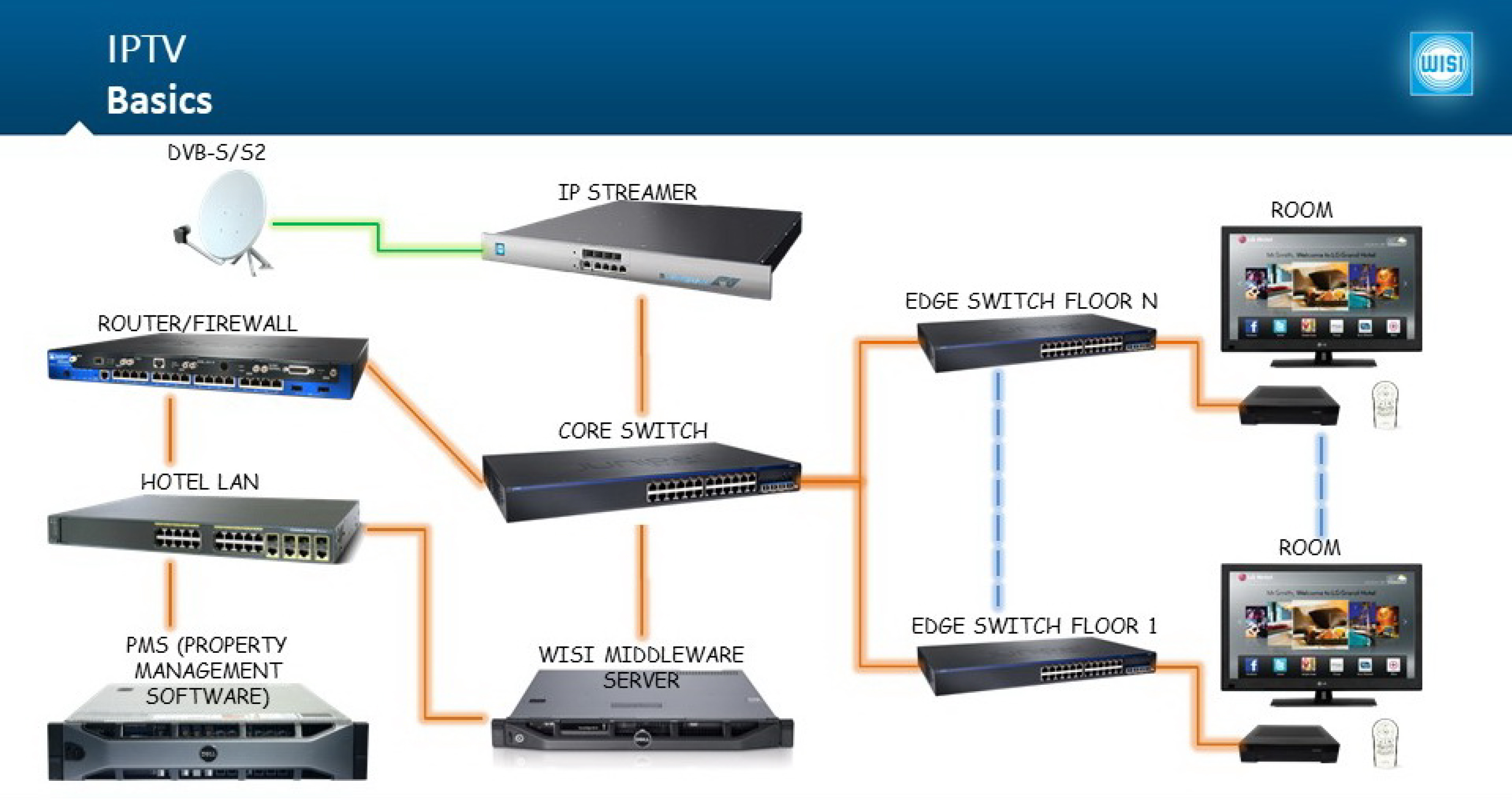 Internet Protocol Television หรือ IPTV คือการนำเอาสัญญาณโทรทัศน์ ภาคพื้นดิน (Terrestrial antenna), ดาวเทียม (Sattellite), กล่องรับสัญญาณ (Set top box), เครื่องเล่นภาพ (Bluray Player) มาทำการเข้าระหัส (Encoder) แล้วสตรีมมิ่ง (Streaming) ให้สามารถส่งสัญาญาณภาพและเสียง วิ่งไปบนสายแลนชนิด UTP หรือ STP ในรูปแบบระบบที่เรียกว่า IPTV นั้นคือการนำเอาเทคโนโลยีโครงข่ายระบบเน็ทเวิร์คของคอมพิวเตอร์ มาใช้งานร่วมกับระบบโทรทัศน์ โดยสามารถ Video Encoder MPEG-2 HD/SD และ MPEG-4 HD/SD (H.264/AVC) Chroma sample 4:2:0 และ Audio Encoder ISO 11173-3 (MPEG-1 L2), MPEG-2 AAC (LC) ทำการ Streaming ให้ทุกสัญญาณอยู่ในรูปแบบ IP โดยใช้ Protocol UDP หรือ RTP หรือ RTP+FEC Unicast and Multicast, IGMP v2 and v3 รองรับ IP IN/OUT bitrate สูงสุด 425 Mbit/s per IPTS.
WISI GNHWUW2
The Chameleon is a Software-Based Headend Platform. The Chameleon headend platform is designed with all current and future applications in mind. It is ideally suited for the transition from analog to digital environments, and has unique flexibility that allows you to change functionality with the click of a button. The CHAMELEON product line covers functionality needs for all types of installations. These can be easily extended, in size by adding more units, and in functionality by adding software options. The software functionality can be modified and upgraded at any time, without changing the hardware. This Chameleon version (GNHWUW2) is equipped with multi-tuner support for DVB-C/T/T2/S/S2/S2X and ISDB-T reception.
WISI GNHWENC2H
The CHAMELEON ENCODER is a professional and high density HD/SD audio & video encoding device which adds the feature of MPEG-4 and MPEG-2 encoding to the CHAMELEON product line. With the same form factor as the CHAMELEON modules, the CHAMELEON ENCODER can be used in any CHAMELEON base unit. The CHAMELEON ENCODER allows you to add services available in HDMI format to your digital network. The 4 encoded service will be provided by the IP output interface.