OM 11 0648 Transmodulator of 6 DVB-T/T2/C channels to 8 DVB-C or DVB-T channels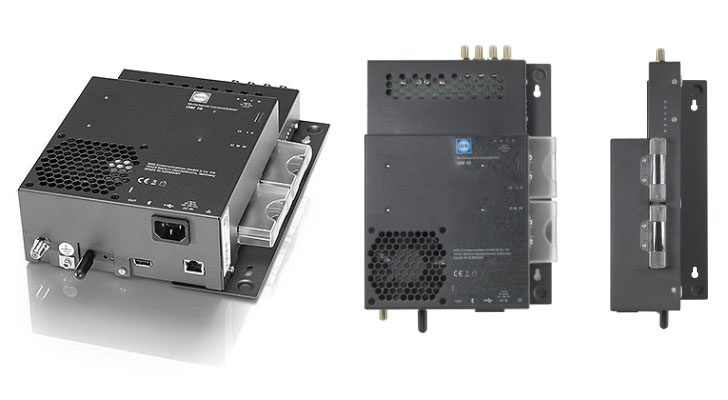 The OM 11 0648 is a micro headend which can transmodulate 6 DVB-T/T2/C channels into 8 DVB-C (QAM) or 8 DVB-T (COFDM) channels. As it comes with 4 CI slots, it is perfectly suited for the central decryption of pay-tv services. There is also the possibility to create a multiplex before the CI slots allowing the user to combine services from different channels but to decrypt them by only one smartcard, hereby guaranteeing the efficient usage of professional CAMs. Additionally the OM 11 supports the deletion of unwanted services from a channel and enables the reduction of output channels by using the output multiplex functionality. As a transport stream, external video content can be fed in via USB or the LAN connection.
สามารถรับสัญญาณโทรทัศน์แบบดิจิตอลขาเข้า DVB-T/T2/C
มีช่องต่อสำหรับรับสัญญาณโทรทัศน์ 2 ช่องสัญญาณและมี Matrix switch ติดตั้งอยู่ภายในตัวเครื่อง
สามารถเลือกส่งสัญญาณขาออกแบบ DVB-T หรือ DVB-C
สามารถเลือกรับความถี่สัญญาณขาเข้า 6 ความถี่
สามารถเลือกส่งความถี่สัญญาณขาออก 8 ความถี่
สามารถจัดเรียงหมายเลขช่องรายการโทรทัศน์ได้ตามต้องการ
สามารถเลือกช่องรายการโทรทัศน์ที่ต้องการส่งสัญญาณได้
มีช่องเสียบ USB เพื่อป้อนสัญญาณ Video Information ได้
สามารถนำสัญญาณวีดีโอมาทำการ Streaming เพื่อจะส่งไปยังเครื่องรับโทรทัศน์ได้
สามารถเชื่อมต่อกับสมาร์ทโฟนหรือเทปเล็ท โดยใช้สัญญาณบูลทูธ
มีช่องเสียบ RJ45 สำหรับโปรแกรมผ่าน Web Interface
Transmodulator of 6 DVB-T/T2/C channels to 8 DVB-C or DVB-T channels
Integrated switch matrix reduces installation effort. Parallel insertion of DVB-T/T2 and DVB-C possible (Input 1 -> Tuner 1...2 / Input 2 -> Tuner 1...6 / Input 3 -> Tuner 3....6)
4 CI slots for central decryption
PID remapping allows setting of static service PIDs at the output. It is no longer necessary for the TV set to make a scan if there is any transponder modification at the input
LCN / NIT processing
Multiplex functionality at the input and output
USB-interface to feed in any video content
Programming via web interface
Integrated DHCP server enables an automatic connection to a PC
Smartphone and tablet access via Bluetooth
Own video content such as a hotel presentation, information or advertisement channel can be fed in via the integrated USB interface or the web interface. These TS files will be uploaded into the internal storage of the headend and requires no external video sources or modulators. The video content is distributed parallel to the TV services and are visible as a regular service at the TV set.