VX 2035 204 Building CATV Amplifier 1,2 GHz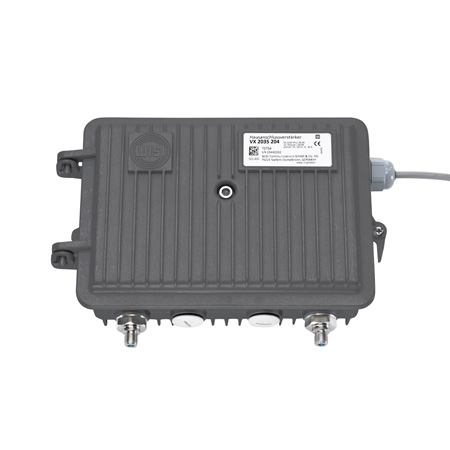 The VX 2035 is a location feeding in-house amplifier with a frequency range up to 1.2 GHz. It has an active output and a measuring socket on the input and output. Diplex filter and return path amplifier are grouped together on a module (VX201-xxx) and available in the versions 65 MHz, 85 MHz and 204 MHz. All settings are done without interruption with Q-step switch or jumper. In addition, a high pass filter XE-xx can be plugged in the return path to influence the ingress influences.
High output level up to 1.2 GHz, with low power consumption
Active single output
Measuring socket for input and output
All settings (gain, slope etc.) by rotary switch and Jumper
Diplex filters, return amplifier pluggable on one module
Optional - receiver according to EN 60728-14 for ICS-settings
Optional - pluggable high pass filter at the return path channel
Very low power consumption <22 W.
TECHNICAL DATA
Downstream

Frequency range
258...1218 MHz
Gain
35 dB (±1 dB)
Ripple
≤ ± 0,8 dB
Noise figure
<7,5 dB @ 1 GHz, <8,0 dB @ 1,2 GHz
Output level
115 dBµV (CENELEC 41 Ch. (CSO/CTB ≥ 60 dB), flat)
Output level
111 dBµV (110 Ch/QAM 256, flat, BER <1 E-9)
Output level
110 dBµV (all QAM (138 x 256 QAM), EN60728-3-1, flat)
Input cable simulator
0/5/10 dB (Jumper)
Input attenuator
0...15 dB (Rotary switch 15 Steps)
Step size
1 dB
Input equalizer
0...30 dB/1218 MHz Drehpunkt (Rotary switch 15 Steps)
Step size
2 dB
Interstage equalizer (Slope)
0/2/4/6/8/10 dB (Jumper)
Interstage attenuation
0/2/4/6 dB
Test point
-20 dB

Upstream

Frequency range
5...204 MHz
High pass filter pluggable (optional)
15 MHz (WISI - XE04/0150)
Gain
29 dB (±1 dB)
Ripple
± 0,5 dB
Noise figure
< 6,5 dB
Output level
107 dBµV (24 x 256 QAM)
Interstage attenuator
0...15 dB (Rotary switch 15 Steps)
Step size
1 dB
Interstage equalizer
0/2/4/6/8 dB (Jumper)
Output attenuator
0/10 dB (Jumper)
Output equalizer
0/6 dB (Jumper)
Ingress control switch (optional)
nach ICS EN 60728-14
Test point
-20 dB

General data

RF connectors
PG 11/F
Impedance
75 Ω
In/Output return loss
5...40 MHZ >16, >40MHz -1,5dB Oktave, >12
Supply voltage
230 V AC ±10 %
Power consumption
< 22 W
Ambient temperature
-20...+55 °C
Protection class
IP 67
EMC
EN50083-2
Surge protection RF Ports
2 kV (1,2/50 μs pulse EN61000-4-5)
Dimensions W x H x D
232 x 158 x 86 mm